When a design and production team finalize the specs of a new build, one of the key and obvious elements they review is how is this model going to be used. At Kadey-Krogen this is relatively easy because we maintain a myopic focus on building bluewater capable cruisers which are extremely livable and easily handled by a couple. Therefore we simply have to match the best propulsion package for this mission. This then becomes a relatively easy decision and today we incorporate the use of John Deere engines across the range. 
Kadey-Krogen matches the engine selection with its singular mission. 
In addition to the mechanical aspects of the engine, our team also consider the global parts and service capability. John Deere engines are backed by the company's service network of more than 4,000 service locations. So if an owner completing the Inside Passage is looking for service in Ketchikan, Alaska they'll have the same service coverage as the owner cruising through Maine. In addition the John Deere Electronic Engine Control Unit provides advanced fault code diagnostics and customizable engine protections. 
"To determine the best engine package for a Kadey-Krogen is straightforward. We just need to mirror the best engine to our own mission."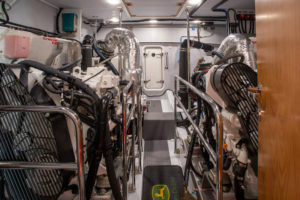 We also consider an engine's overall features and benefits. The key points of John Deere engines that benefit a bluewater bound vessel such as the Kadey-Krogen are:
High torque and low rated RPM reduce noise and vibration.
High pressure common rail fuel system provides excellent fuel economy and reduced emissions. This also provides variable common-rail pressure, multiple injections, and higher injection pressures on each engine. The systems then also regulates fuel injection timing and provides precise control for the start, duration, and end of injection.
Electronic transfer pump provides self-priming fuel system for ease of maintenance. 
A true marine wet turbocharger and wet exhaust manifold lowering surface and engine room temperature.
As we have mentioned in our construction section, maximizing strength while monitoring weight is a key aspect of creating an efficient trawler yacht. We apply this thinking even with the engine selection. The John Deere's power-to-weight ratio delivers impressive torque for its relative size. 
John Deere engines meet U.S. Environmental Protection Agency Marine Tier 3 and Recreational Craft Directive II emissions regulations, as well as International Maritime Organization Tier II standards.