Comfort and onboard space are more than just some general ideas to think about when considering a yacht to live aboard. After all, these attributes can make a difference in the experience, and become more important over time. After all, no one takes the plunge into long-term living aboard without investing substantial time into researching the available yachts and carefully considering all the possibilities.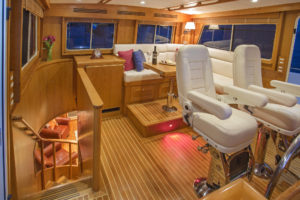 At Kadey-Krogen, we build the best trawler yacht for living aboard, and we do it by sticking to our proven approach, which has been developed and evolved over our history: Design a Pure Full Displacement hull that provides the volume needed for the yacht we want to build, and create an interior that meets the requirements of those who will essentially move aboard the yacht for the time they spend on board. 
What Makes a Yacht Comfortable?
The real difference becomes obvious when one compares the other yachts out there with those built by Kadey-Krogen. For one thing, our hulls offer a more stable platform than most of the other yachts out there. Why? It's because we have a hull design that uses longitudinal symmetry to roll less. Asymmetrical hulls with flatter aft sections and immersed transoms tend to roll more simply because waves can gain more purchase on those flatter, wetted surfaces than on our rounded form.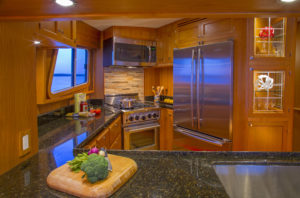 One way the Kadey-Krogen design capitalizes on the space is to provide the kind of provisioning and stowage space needed for extended voyaging. After all, long-range cruising can mean there's a self-sufficiency component to the planning. Efficient refrigeration and freezer systems, including full-size appliances like in a home kitchen mean the food stays fresh. Pantry space is easy to set up so the chef can find what's needed without having to dig through the entire stockpile. Stowage for clothing and gear is readily accessible but also gets stuff out of the way. And the displacement hull does not have an adverse reaction to being laden with gear.
Part of comfort is being able to relax. Our yachts are designed to remove worry—our owners don't get bogged down in the details and have their minds racing with concerns. Instead we think of the details so the owners don't have to. All of our yachts are designed with a washer and dryer, which can change the game in terms of clothing needed for a long voyage or extended time aboard. And water need not be a concern, our boats have tankage to carry 300 to 400 gallons of fresh water, and many owners fit a high-capacity watermaker (they take their comfort as seriously as they do their desire to be away for a long time).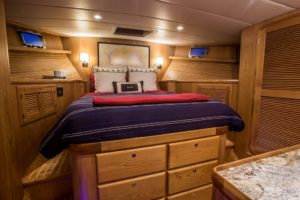 Another aspect of relaxing is knowing that everything is running properly, and we design our yachts for owner operators to be able to maintain all the systems and troubleshoot problems. That means the engine room has enough space to stow a selection of spare parts, and that systems are accessible and it's easy to get to service points.