One of the most important marine design concepts that is foundational to the Krogen hull is Architectural Integrity, which essentially means keeping a vessel true to its original design parameters. In the case of a Kadey-Krogen full displacement trawler yacht, the original design parameters since 1977 have always been a sea kindly, live-aboard ocean crossing yacht.
True architectural integrity in every Kadey-Krogen design
Today it is not uncommon to see notable manufacturers stretch a 41-footer to a 49 footer, a 47 footer to a 52 footer, and a 55 footer to a 60 footer. In our opinion, this practice compromises the performance of the resulting hull design. Perhaps the best-known example of violating architectural integrity occurred back when SUVs first became all the rage. Manufacturers simply took the chassis of another vehicle and put a large boxy structure on top, thereby raising the center of gravity. Remember all those early stories about SUVs rolling over?
So why do manufacturers violate the architectural integrity of one hull design and stretch it to make another model? Simple. It's a relatively low-cost method to introduce another model, and with more models there is a greater chance a builder will have a vessel that appeals to a particular customer. Keeping costs down and building and selling more boats equate to greater profits.
Why not stretch a boat? 
To design a boat with optimal performance involves a mathematical formula where everything is a variable and the goal is optimal efficiency and stability. Like any formula, if you change some of the variables without changing others, you will get a different result. This is inescapable.
If you take a boat that was designed at 55 feet and "stretch" it to 60 feet, all of the engineering is changed. You simply can't design the proper curvature and shape of a hull, stretch the middle by 10% or more or stick a larger cockpit on, and have the physics stay the same. You can't determine, using sound naval architecture principles, where to place the propellers, rudders, etc. on a boat, and change its length by 10-15%, add a larger engine and prop, and then expect the same handling results. This may result in just an unpleasant ride but at some sea state it will approach the line between difficult steering and being unsafe.
Hull Form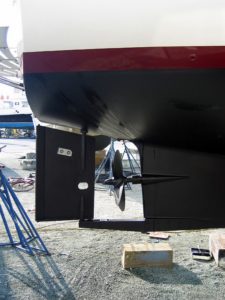 Besides the Architectural Integrity of a Kadey-Krogen, the hull design is perhaps the most important reason why seasoned mariners come to love the brand. Each and every Krogen yacht begins with Kadey-Krogen's exclusive Pure Full Displacement  (PFD) hull-a masterpiece design for full displacement pleasure yachts, originally created in the 1970s by James S. Krogen. This is a hull form with ideal displacement-to-length ratios, a fine entry, and characteristic end-to-end symmetry including the signature "wineglass" transom-all producing a ride that is truly without equal.
Each and every Krogen yacht begins with Kadey-Krogen's exclusive Pure Full Displacement  (PFD) hull-a masterpiece design for full displacement pleasure yachts, originally created in the 1970s by James S. Krogen
We are singular in focus and only build this proven, reliable seaworthy and sea kindly cruising hull form. The PFD hull design does what it does so well, that cruisers are ensured a safer and more comfortable time aboard. The design optimizes the stability for comfort plus ample volume for the fuel and supplies needed to make long passages or cross an ocean. And only the exclusive Kadey-Krogen hull form allows us to combine the elements to deliver capability and liveability so perfectly.
Hull Form Symmetry 
The PFD hull is differentiated from other hulls based upon two form fundamentals: longitudinal symmetry and displacement to length ratio (D/L). Longitudinal symmetry refers to the degree to which the stern shape matches the bow shape. A simple way to describe what is desired is that a hull with good symmetry will have V-shaped sections and sharp waterlines at both ends.
Why the V-shaped aft sections and sharp waterlines at both ends?
The fine entry has superior wave cutting ability, making it more efficient compared to blunt, stout-looking forms. The fine entry also yields a softer ride, which means less pounding in head seas.
Symmetrical forms track better in a following sea. The V-shaped sections aft slice following seas rather than surfing them, making for a safer and more comfortable ride.
The aft V-shaped sections also offer less resistance and drag than the broad waterlines of asymmetrical hulls. This results in better fuel economy.
Symmetrical forms roll less. An asymmetrical hull with an immersed transom and/or relatively flat aft sections will tend to roll more than a symmetrical hull in a following or beam sea due to simple physics. The leverage (upward force) that wave action has on those flatter sections is greater than on a hull that is more rounded and/or tapered. The upward force on one side creates a downward force on the other side and voila, you have roll—and the cause of that vessel to veer off course (yaw).
Hull Form Displacement
The displacement-to-length ratio (D/L) indicates whether a given displacement is carried over a long waterline length or a short one. It reflects the load the vessel has to carry on a per-foot of waterline basis. Lower ratios tend towards lean and slippery forms with fine ends, and higher ratios tend towards full-bodied and less efficient forms with blunter ends.