For Mark and Pauline Masuhr, owners of a new Krogen 48 AE, and before that a Krogen 44, the first 14 years of their retirement were spent at 10,000 feet, skiing the Rocky Mountains 100-plus days a year and hiking much of the rest. So, what led them to sea level and moving with the seasons in search of warmer weather?
By Mark and Pauline Masuhr
"Shortly after retirement, we saw our first Kadey-Krogen yacht up close and personal when we were anchored next to a Krogen 42," said Pauline. "We were invited aboard for cocktails and we knew then, that when we were finished sailing and skiing, our next dance would be a trawler, and a Kadey-Krogen!"
In 2013, they bought a Krogen 44 and the Masuhrs loved her for all the reasons other 44 owners do—seaworthiness, comfort and spaciousness, and those beautiful lines. After completing the Great Loop in November 2014 and deciding to live aboard full time, they felt a larger boat with a second head would suit them well. Since taking delivery of their Krogen 48 AE, appropriately named Next Dance, the Masuhrs have considered their future cruising plans. Without a home port (what freedom!), they'll be dancing along the East Coast and up through the Canadian Maritimes. Other future destinations include the Florida Keys, the Bahamas and the Caribbean.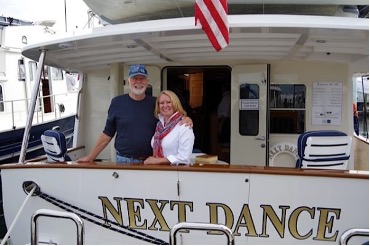 Mark admits, at first they questioned what they were doing building a boat—after all, there was nothing wrong with their Krogen 44! "After some ideas back and forth with Tom Button, Larry Polster, and Tucker West, we decided that the Krogen 48 AE was in fact the right boat for our future cruising plans and Pauline's (a trained chef) desire for a personally appointed galley. Tom Button made sure we got everything we wanted (a happy Pauline). Once the boat splashed, we met Gregg Gandy for commissioning, who was another fabulous experience."
Pauline's advice to those sitting on the sidelines is simple. "Don't wait one moment longer. Cruising brings a wonderful sense of adventure, whether you are cruising from port to port or going offshore. It is a lifestyle of constant change and meeting friendly, interesting people with a few things in common, a love for boating and being on a trawler–traveling slowly but adventuring everywhere."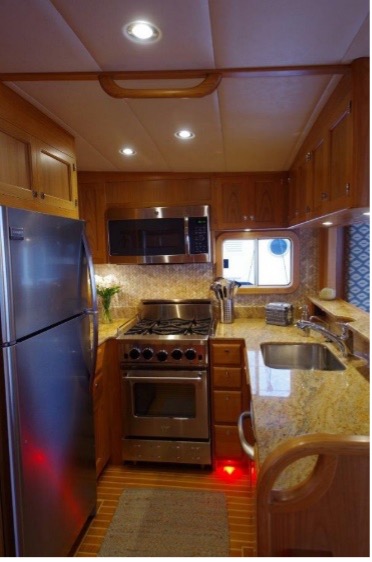 We're thrilled that their dance floor is a Kadey-Krogen. Below is a delicious recipe straight from Pauline's galley! Enjoy!
Grilled Garlic Cajun Shrimp Skewers
Serving: 12 skewers (serves 4-6)
Ingredients:
½ cup unsalted butter
4 cloves of garlic, pressed or minced
1 Tbsp cajun spice (provides light heat; it's not too spicy)
½ tsp salt (omit if using salted butter)
1 Tbsp lemon juice (from  ½ medium lemon)
2 lb. large shrimp (21-25 count), peeled and deveined
12 medium wooden skewers
Instructions:
Soak wooden skewers in water approximately 30 minutes (this reduces burning of the sticks. Preheat grill to med/high (400 degrees F).
Combine all marinade ingredients in a small sauce pan. Bring to a simmer then remove from heat. Pour half of the mixture into a ramekin and leave remaining marinade in pan (You'll brush on half now and brush on remaining marinade after shrimp are grilled).
Skewer 4 shrimp on each damp skewer without leaving spaces. Lay skewers flat on a rimmed cookie sheet. Brush one side of the skewered shrimp with sauce and refrigerate for 2 minutes until butter firms up. Flip shrimp over, brush second side and refrigerate 2 minutes until butter firms up.
Place skewers on the barbie and grill shrimp with the lid on about 2 minutes per side or just until cooked through and no longer transparent. Remove shrimp from grill. Don't overcook or they will be rubbery. Brush on reserved sauce and serve.
Note: To save time, you can buy tail-on shrimp that are already peeled and de-veined.