Editor's Note: Kadey-Krogens are cruising all over the world, and many are far, far from our offices in the United States. We are fortunate to have a family of owners who keep in touch with us often and serve as ambassadors for the brand wherever they go. Just talk to Chris Harward, who lives on her Krogen 48′ North Sea with her husband Brian in Australia. Their Krogen has exactly what they both want. Read on!
By Chris and Brian Harward
My husband and I owned a few boats early in our marriage. Ranging from 25 to 34 feet. The last one was a 34-foot trawler-style timber boat. We had some great times and loved the "Walrus" but the upkeep of a wooden boat was too much, and it was sold after about six years.
Fast forward to 2012, and boat dreams appeared again. We had sold our home, paid off the mortgage, and bought a townhouse. Time to get our boat. A close friend has a Fleming 55', which we loved, but decided the trawler hull form was for us. Wanting a quality boat, Brian spent many hours online researching and reading, and that led him to the Kadey-Krogen Yachts.
Of course, as we live in Australia, there were none to see in-person at that time and few people knew of them. So we came to the United States to view a couple and get the feel for the brand. We instantly knew that these boats and the people of company were very special. We flew home to do more research and to find the one for us.
"Tranquility Base", a Krogen 48' North Sea, was for sale and we had looked at her during our visit in Florida. She was in excellent condition. Well-loved and looked after, built in 2006. We became her proud new owners and an excited pair of Aussies greeted her at Brisbane on February 1, 2014. Our adventures began.
So more people in Australia could see a Krogen, we lent her for two boat shows, Sanctuary Cove, Queensland, and Sydney, NSW. Tranquility Base spent a bit of time in the rivers around Sydney as we enjoyed her and got to know her. We moved on board in April 2015 and cruised up to Queensland in May, and then the Whitsundays in August. We had some wonderful times around the islands there in the sun, water and sand. Don't forget this is our winter, and up this far north it is not cold. We had a number of visitors, family, and friends stay and enjoy time with us (including some close friends from Oshkosh, Wisconsin). We had many sundowners and beautiful sunsets. We met amazing people both from Australia and around the world!
Leaving the boat in a safe marina, we headed back to Sydney for Christmas and until the end of the cyclone season around March. We returned to Tranquility Base in April 2016 and after some routine maintenance, fixing a few bothersome bits, we headed north. So warm and sunny, it is hard not to jump in the crystal-clear water—but north from Townsville that is definitely something you don't do. Our Crocodiles must be respected and feared. You also need to be mindful of the possibility of stingers (mostly only November to May, but their sting can be lethal), and of course, sharks.
Many weeks and adventures later, we were right up to Cape York. Spent some amazing days at Lizard Island, snorkeling the reef and walking over the island, ventured further north to Flinders Island group and Princess Charlotte Bay—a wild, remote, and beautiful country.
Heading back south was more difficult as we had winds on the bow of 20 to 30 knots slowing us down to 4.5 knots at times. Not the most comfortable trip but we knew we were safe in our seaworthy vessel. We stopped at many beautiful islands and marinas in townships and cities on the way up and down the Queensland coast.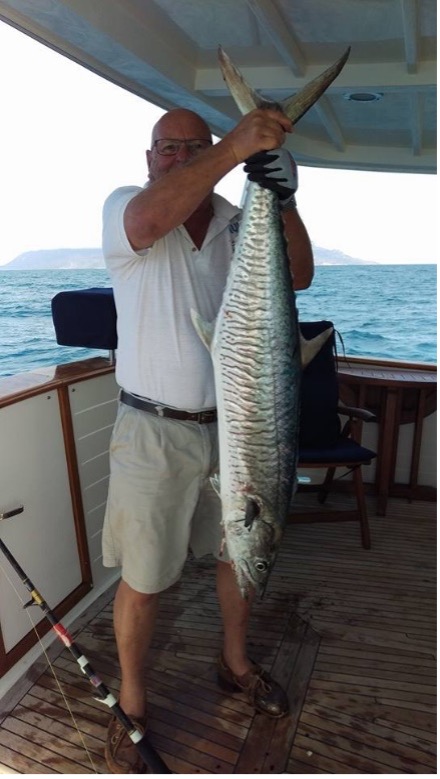 We are now in the Whitsundays again. Adventures, reefs, and great walks on the beaches are all part of cruising this amazing area. We love having friends onboard and sharing this amazing waterway. Fishing has been with less success this year, but there have been a number of reef sharks, remoras, lost lures, baits and lines a number of times. Brian caught a 12 kg Spanish Mackerel the other day which we were able to share with some other boats in the bay we anchored in that evening, much to their appreciation.
I have to say, I think I love living in our nautical home more than Brian does! I love the boat motion, and I feel so much more comfortable and "at home" on the water than in our townhouse. Our Kadey-Krogen 48' has everything we need, very comfortable living area, galley, and staterooms, and we enjoy how it is so open and airy, and with so many separate areas and places for storage.
We recently spent a week at the townhouse in Sydney and were glad to come home again to Tranquility Base in Townsville to prepare for our trip further south to the Whitsundays, where we will stay until the end of November (when it is better to leave North Queensland as the threat of cyclones becomes a problem). This year we will probably take Tranquility Base back to Sydney for the summer to be able to enjoy her with family and the grandkids.
Respectfully Submitted,
Chris