In the spring of 2004, we took possession of Grand Adventure, our Kadey-Krogen 39′. We had been dreaming for years, decades really, about dropping out of real life after our kids were out of the nest and cruising the East Coast on a full time basis. We had been going to boat shows and Trawler Fests for years, both as a way to keep the dream alive, and to decide what boat would be perfect for us. So, climbing onboard Grand Adventure after the deal closed was an almost surreal event. It was hard evidence that our adventure was really going to happen.
During our search for Grand Adventure, we made some decisions on where we'd like to cruise. Mark had visited Marina Cay in the British Virgin Islands (BVIs) with his family as a child and had always dreamed of navigating his own boat down there someday. We decided that if we felt we could, we would do that as our grand finale at the end of two years of cruising.
When you are dreaming about giving up your normal life, and in our case significant possessions like the house and cars, you must ask yourself if the two of you can live full time together in a small space, because all of your friends and relatives are trying to convince you that you can't. We figured we could, so, undeterred, we made up our minds that we would take the plunge with the understanding that if either of us decided that it wasn't working, we would revert back to our former lives.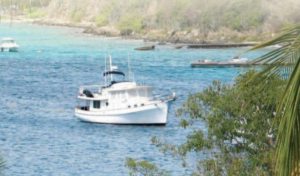 Between 2004 and 2009 we spent as much time as we could cruising the Chesapeake and later Lake Erie to learn Grand Adventure's systems and to gain as much experience as we could prior to launching our adventure. In July of 2009, the big day came and we put to sea (well, actually Lake Erie).
In the two years that followed, we cruised from Maine to the Bahamas, all the while taking longer and longer open ocean voyages up and down the coast in preparation for our big journey to the BVIs. It took a little longer than we had planned, but by Year Three we were ready to make the trip. In December of 2011 we left from Stuart, Florida, on a 2,500-mile, four-and-a-half month trip to the BVIs and back.
The first leg of the trip, we headed over to the Exuma island chain in the Bahamas. We were planning to get down to the Turks and Caicos Islands for Christmas, but the weather did not cooperate. The most important rule of cruising is to always be aware of the forecast for wind, seas and storms, and we had consistently unacceptable winds and wave heights, so we decided to spend Christmas in the Exumas and have our kids meet us there instead of the Turks & Caicos.
We picked up the kids in Nassau, and travelled down to the Exuma Land and Sea Park for Christmas. The weather was gorgeous, the park rangers put on a potluck Christmas dinner, and the kids spent as much time as possible snorkeling the park's beautiful coral reefs. Except for the lack of Christmas Day snow, it couldn't have been more perfect.
The Christmas week went quickly, and after a stop at Staniel Cay we put the kids back on a plane in Nassau and cruised south to Thompson Bay, Long Island, in hopes of getting a weather window to make the overnight run to Provinciales (Provo) in the Turks and Caicos. Unfortunately, we ended up having to wait another week because the winds and seas just would not calm down. After consulting with our weather guru, Chris Parker, we determined that the only opportunity we would have would be to break the trip into three one-day runs with a layover stop at Acklins Island to wait a day for the window to Provo.
After following this plan, we arrived at Southside Marina in Provo where the staff is more friendly and helpful than in almost any other place we have stayed. They drove us to town to reprovision and took us on a group outing to a beachside restaurant where the conch fritters and rum punch were outstanding!
Provo was the launching point for the long open water run to Puerto Rico. This was by far the most daunting of any passage we had attempted during our cruising. With the expert advice of Simon, Southside's dockmaster, we plotted a trip across the Caicos bank and an overnight run to Ocean World in the Dominican Republic. He even called ahead to make a reservation for us and asked that we email him back when we had arrived safely! From there we would have an additional 36-hour run along the Dominican Republic coast and through the infamous Mona Passage to Boquerón, Puerto Rico.
We made it safely to Ocean World, although we were dodging rain squalls most of the way. We arrived just hours before much more severe winds and large seas arose, so we had to spend a few days there to wait for a window to Boquerón. After listening to Chris's forecast, it became clear that we were either going to have to leave in higher seas than we normally prefer or wait at Ocean World for a few more weeks. After serious discussion and much consideration, we decided to go.
The trip to Boquerón was quite a ride, and turned out to be 36 hours of 6-12 ft seas and 15-25 knot headwinds. The 10-12 footers were in the Mona Passage, of course. We never were concerned that Grand Adventure could not handle the seas. In fact, during our entire three years of cruising, our 39′ has always showed her stability in rough conditions and steering has never been an issue.
Once in Puerto Rico, we ended up staying for much longer than we planned. With stops in Boquerón, Salinas and Palmas Del Mar, we sampled the culture and then rented a car to tour old San Juan and many other island sites. We really enjoyed our time in Puerto Rico.
From Puerto Rico, we stopped at Vieques and Culebra in the Spanish Virgin Islands. These are actually territories of Puerto Rico. We had a wonderful time in Culebra. We had lunch one day at Mamacita's on the canal and were entertained by the local iguana population that came by to check us out. While we were nibbling on lunch, one even snuck up and nibbled on one of Emily's Crocs!
Next stop was the U.S. Virgin Islands. We stopped in St. Thomas a number of times while picking up guests who flew in to meet us, but our favorite stops were Salt Pond and Francis Bay, both on the Island of St. John. Salt Pond had some of the best snorkeling we had experienced and we even had a turtle graze around our boat for almost two days! It felt like he had adopted us during that time. Francis Bay was scenic and had a lovely treetop style restaurant that you had to climb 165 steps to reach. The view was captivating.
The BVIs lived up to all of our expectations. There were so many wonderful places we visited, from snorkeling the Indians (uninhabited rock island outcrops and reefs) and the Baths, to touring the islands of Tortola and Virgin Gorda by rental car. We saw old distilleries and copper mines, ate at the famous Foxy's beach bar and restaurant, stopped at the Pusser's Rum store on Marina Cay and visited many other great places. Having been on a couple of bare boat charters in the islands in the past, it is so much more fun doing it on your own boat.
We got to stay in and around the Virgin Islands for more than eight weeks and it was magical, but all good things must come to an end and in early April we headed for home. The return trip included a long 60-hour passage from Culebra to South Caicos Island, a run of over 400 nautical miles. Unfortunately, 20 hours into the run we lost our autopilot due to an overheated circuit board, so we had to steer by hand for the remainder of the trip. It was tiring, but we made it. We did see a couple of whales along the way, so there were fun moments as well.
The remainder of our return trip to Stuart was reasonably uneventful, except for some hassles with Bahamian Customs and Immigration who determined that we had to pay an entirely new travel fee just to pass through on our return to the states. The Bahamians don't seem to value cruisers as much as you might think.
Our final overnight passage from Nassau to Stuart was a wonderful end to our BVIs adventure. We had great weather, clear skies and a bright moonlit night. For us, this trip was a once in a lifetime opportunity and we are so glad we seized it when we had the chance.
It was the epitome of a grand adventure!