A quick overnight that quickly went to… Heaven!
Quick question: How do you respond when a Krogen client says something along the lines of, "Well, you would be welcome to use our boat for the open house, but she's in Marsh Harbor in the Bahamas. Is it possible that someone could go get her?"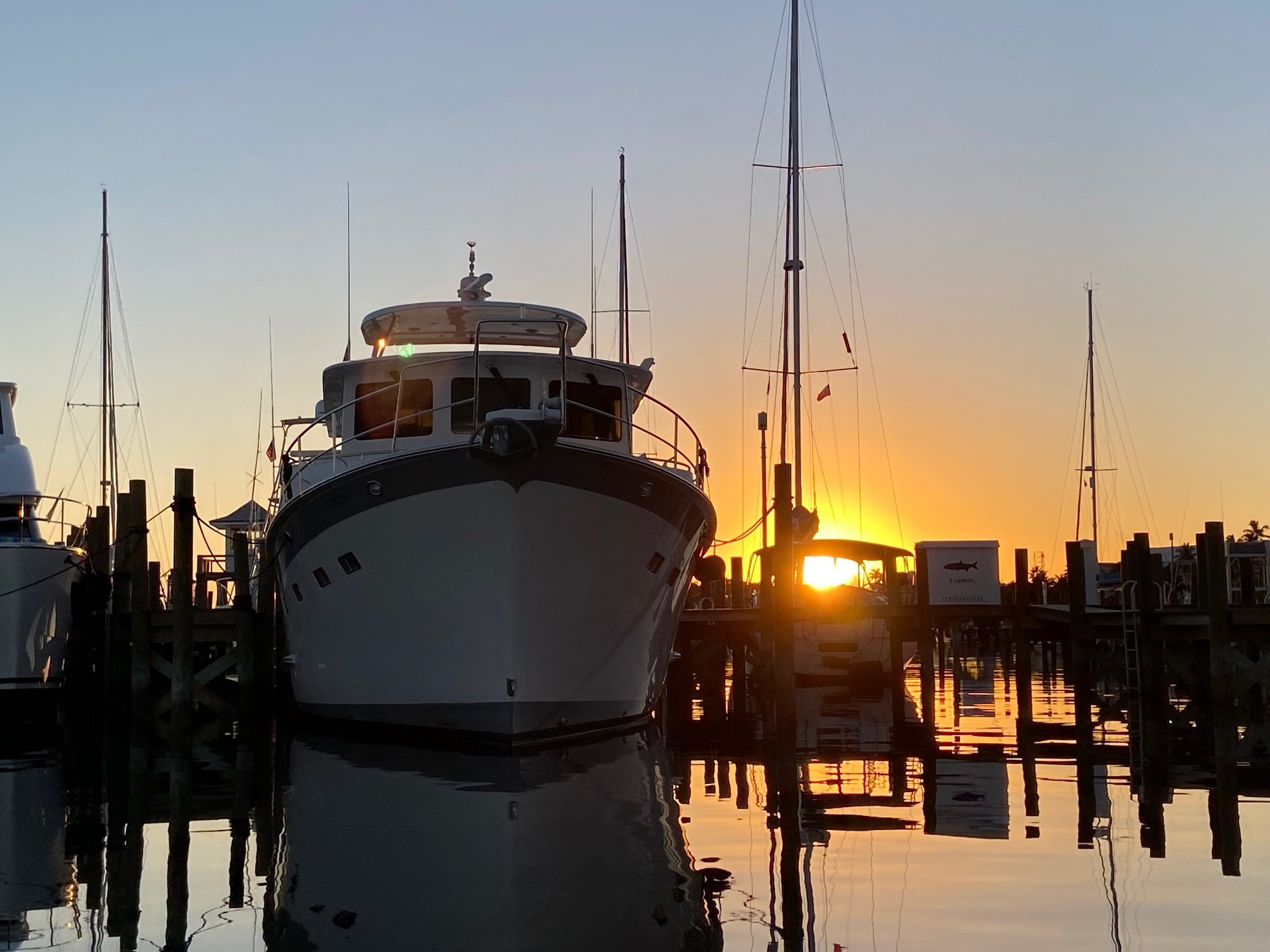 Well if you are like me you leap up and knock the first captain to the ground and then crawl over all your fellow Krogen brokers like that last puppy that didn't get his head and shoulders quite into the crowd at the food bowl, while pontificating loudly as to how many cruising miles you have in the Bahamas…..know it like the back of my hand…. Until they give you the job so that you will be quiet!
So it happened that I was willing to take what I expected to be one of my shortest trips to the islands ever. There was a little weather window forming and it looked like I was going to be able to fly over Friday morning, Pre-Flight the boat, go to the grocery store, stop for a Grilled Conch Platter and some Conch Salad and head out at first light on Saturday. It was a narrow weather window, but a Krogen 52 can tend to make a Captain feel pretty bullet-proof!
Side note: One of my favorite "captain" jokes is: "Everyone wants to be the Captain!… until it's time to do CAPTAIN S*#& (stuff)"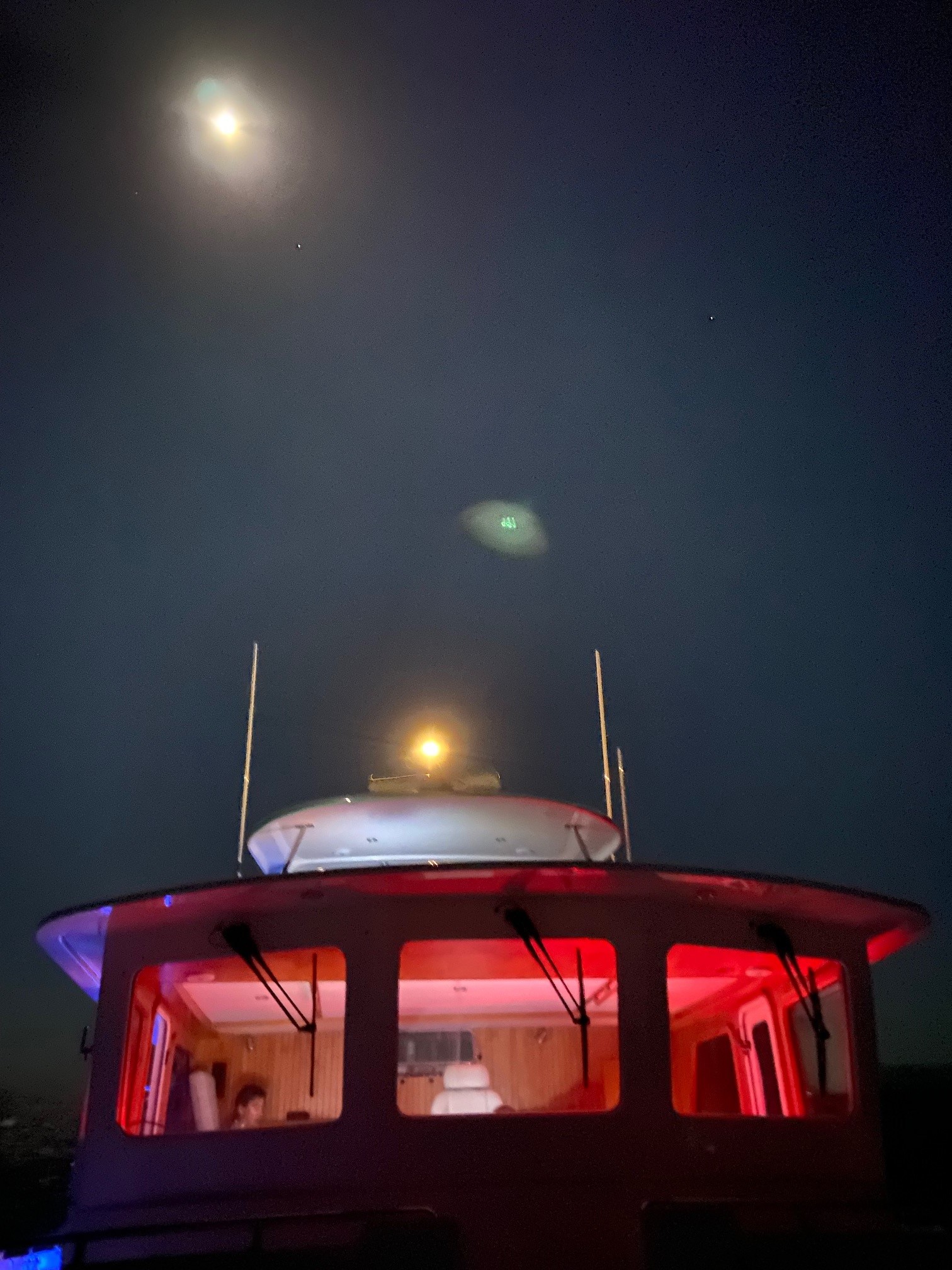 I am proud to say that exercising my experience as a captain, I woke at 4:00 am, checked the latest weather updates, notified my crew to turn off their alarms and relax, and went back to bed. It was the most "Captain" thing I would do the whole trip. I promise you that knowing when NOT to go is going to save you more misery and wear and tear, than any rough-weather boat-handling skills ever will!
Second Captain joke: The surest sign of expert seamanship, is the consistent ability to avoid situations that require Expert Seamanship! That one's true too!
So there we are, with a few days in the Bahamas until the next window, and a Krogen 52 to stay aboard. Oh Darn!
After Hurricane Dorian I came over a couple of times on various boats with emergency supplies. The islands were a freshly bombed war zone. Imagine a powerful Tornado sitting on your town for 2 Full Days!! No recognizable landmarks at all. Much less shelter, water, food… Most times we unloaded and never touched land.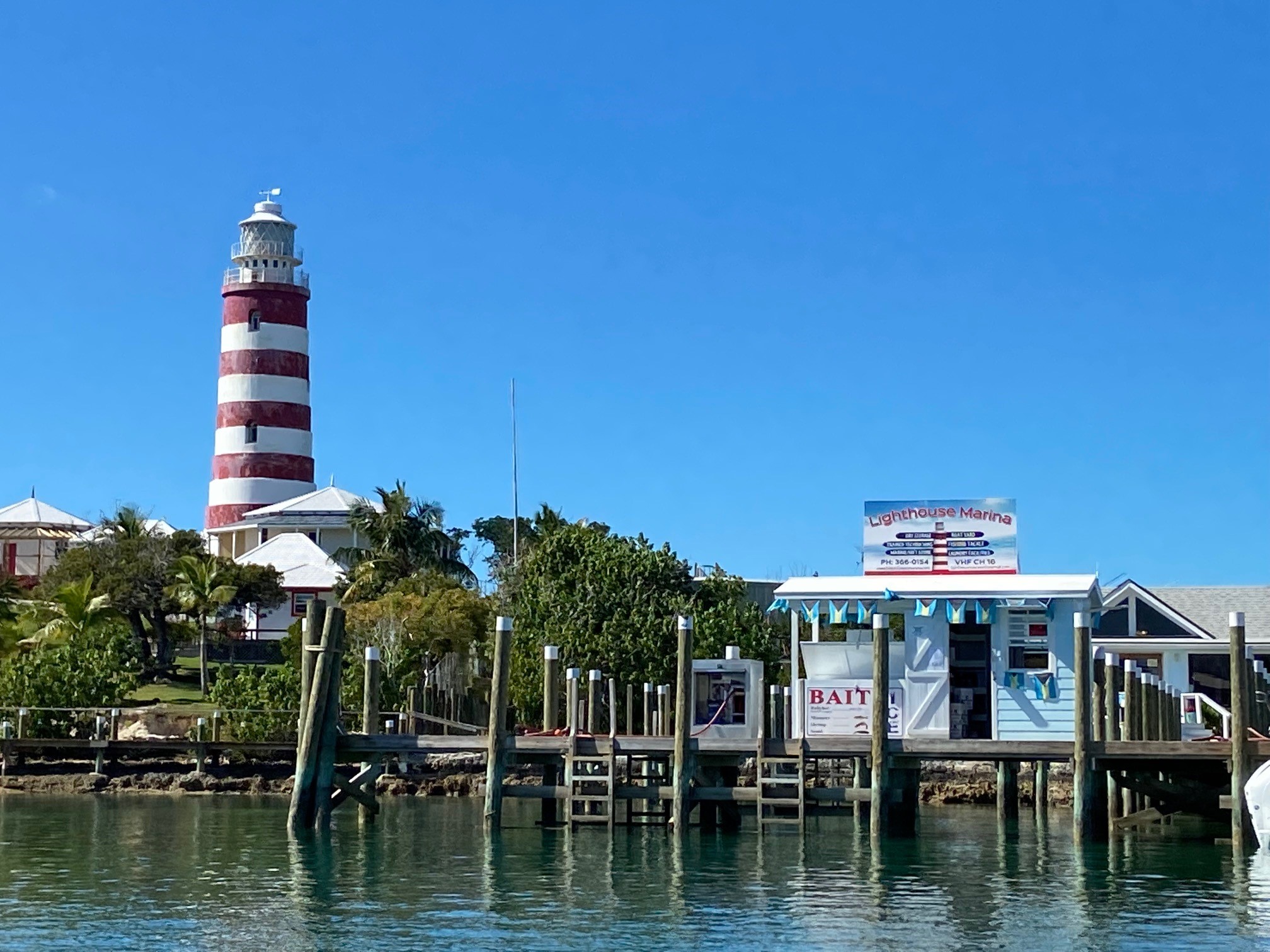 So I was actually happy to have a little time to go visit friends and places. To summarize, Marsh Harbour is more than halfway back. As each cloud's silver lining, some things are back better! The Maxwells Grocery store is of course brand new. It's large and beautiful and very well stocked. Picture a Safeway or Publix in the States. Also, the entire electrical grid was destroyed. I mean every transformer, etc. So the new system is newer, better, and more robust.
About half or more of the establishments you remember are coming back to some degree. Entering Hope Town Harbor if you look to the left, the Pink Cottages are gone and things look pretty rough. Captain Jacks is back open and Vernon's grocery, but the biggest thing there, the Hopetown Harbor Lodge, is gone. I don't mean damaged, I mean GONE! But Hopetown Inn and Marina is open and two-thirds repaired.
Of course, the Abaco Inn is 100-percent open due to the guidance of Tom who is one of the most experienced Inn Keepers in the Caribbean. Firefly is open, because they have offshore corporate funding. Just like with any "disaster," recovery just takes consistent effort and financing!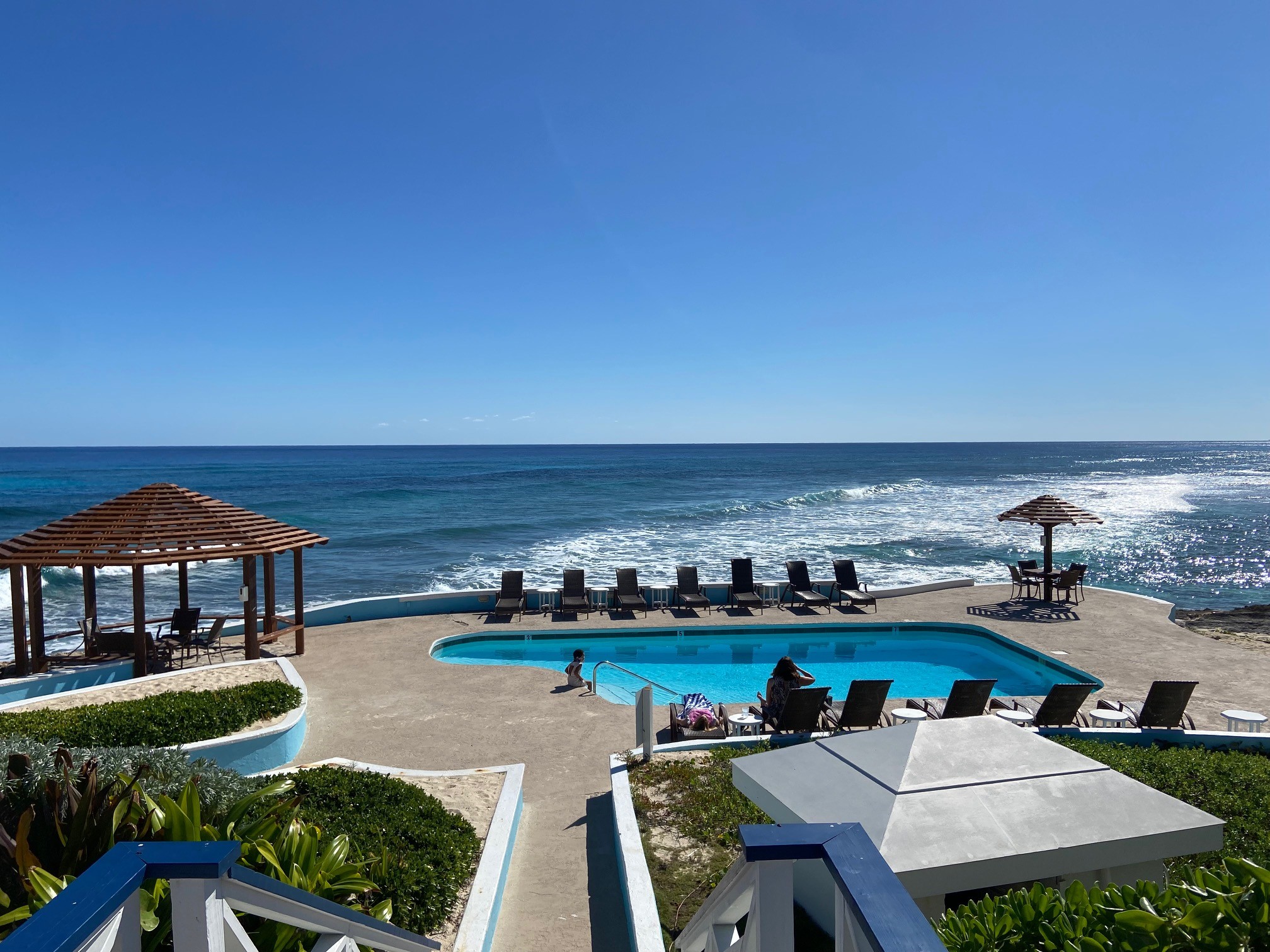 Driving around Marsh Harbour was a bit difficult because I realized I did not know any of the names of roads and all my landmarks were gone! You turn left at the blue house—what blue house?
But Nippers on Guana is Open and Bakers Bay was having a Golf Tournament. Man of War is coming back and Green Turtle is in pretty good shape (these are reports from local friends).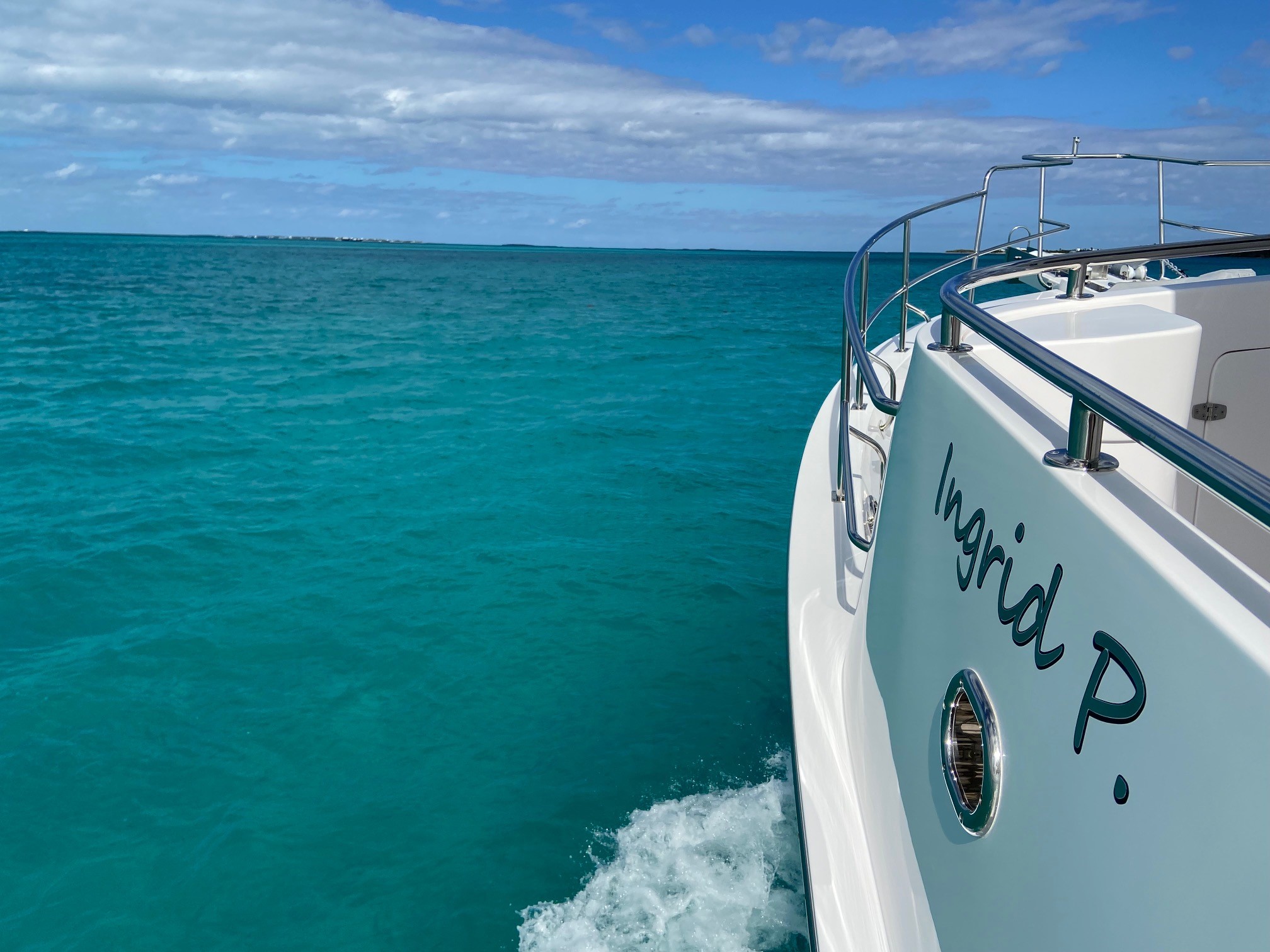 If you are looking for a Disney-Nassau type vacation with something exciting to do every second, then by all means, go to Nassau. But if you want a little inspiration with your relaxation, the Abacos are Open and ready, and would be very happy to see you.
By the way, visitors should COVID rapid test 72 hours before they fly in. Rapid test facilities set up by the Bahamians at the marina, $35 bucks and results in 30 minutes to clear out. No muss, no fuss. Masks inside but the only place you go inside is the grocery store.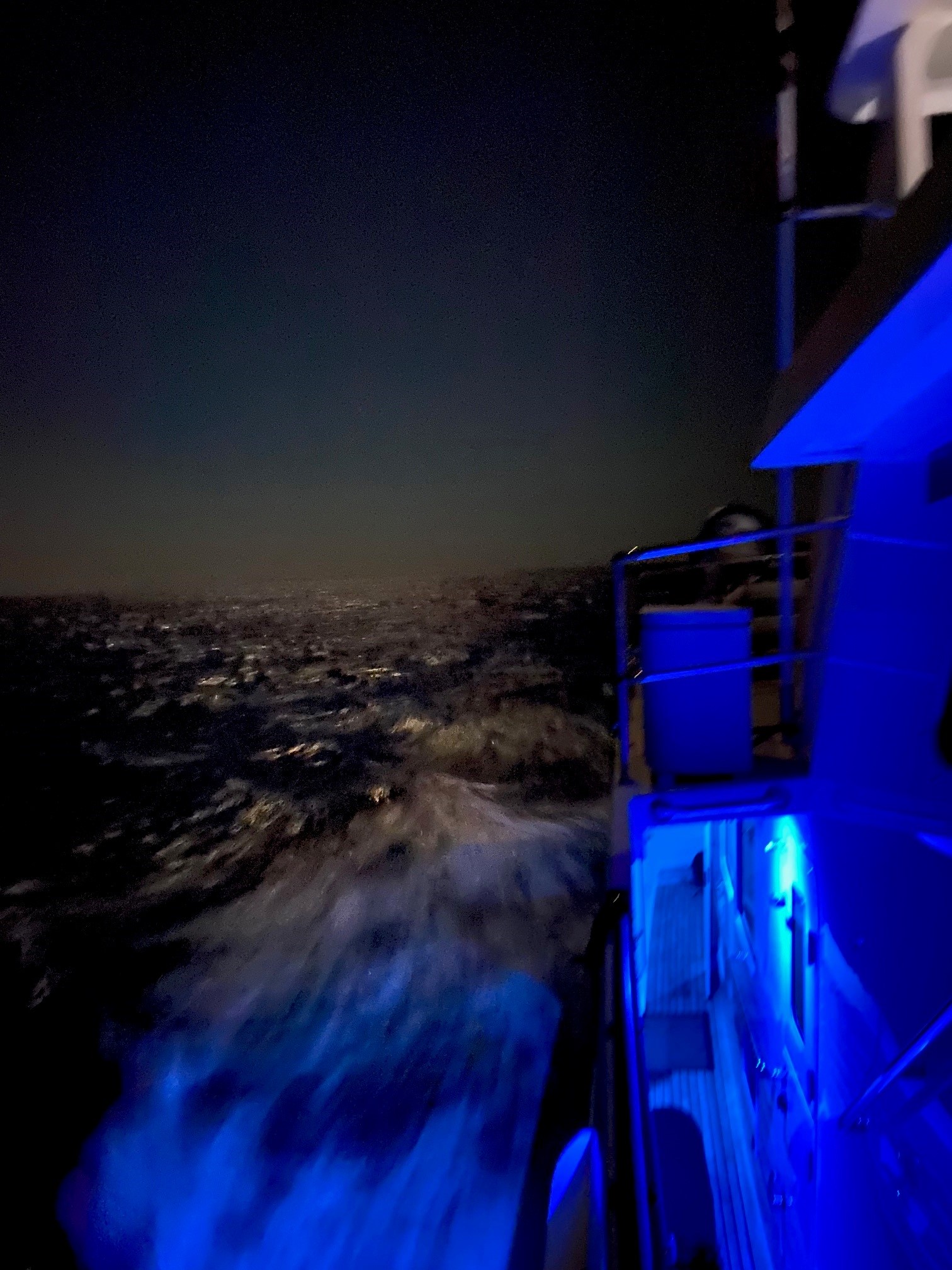 As for the delivery, I could have pushed it and taken the window. It turns out that the last eight hours in the Gulf Stream would have been 12 to 14 feet and gusts to 40 knots! I would not have been scared for my safety in a Krogen 52, just stupid! And as the Bahamian saying goes, "If you dumb you got to be Tuff!"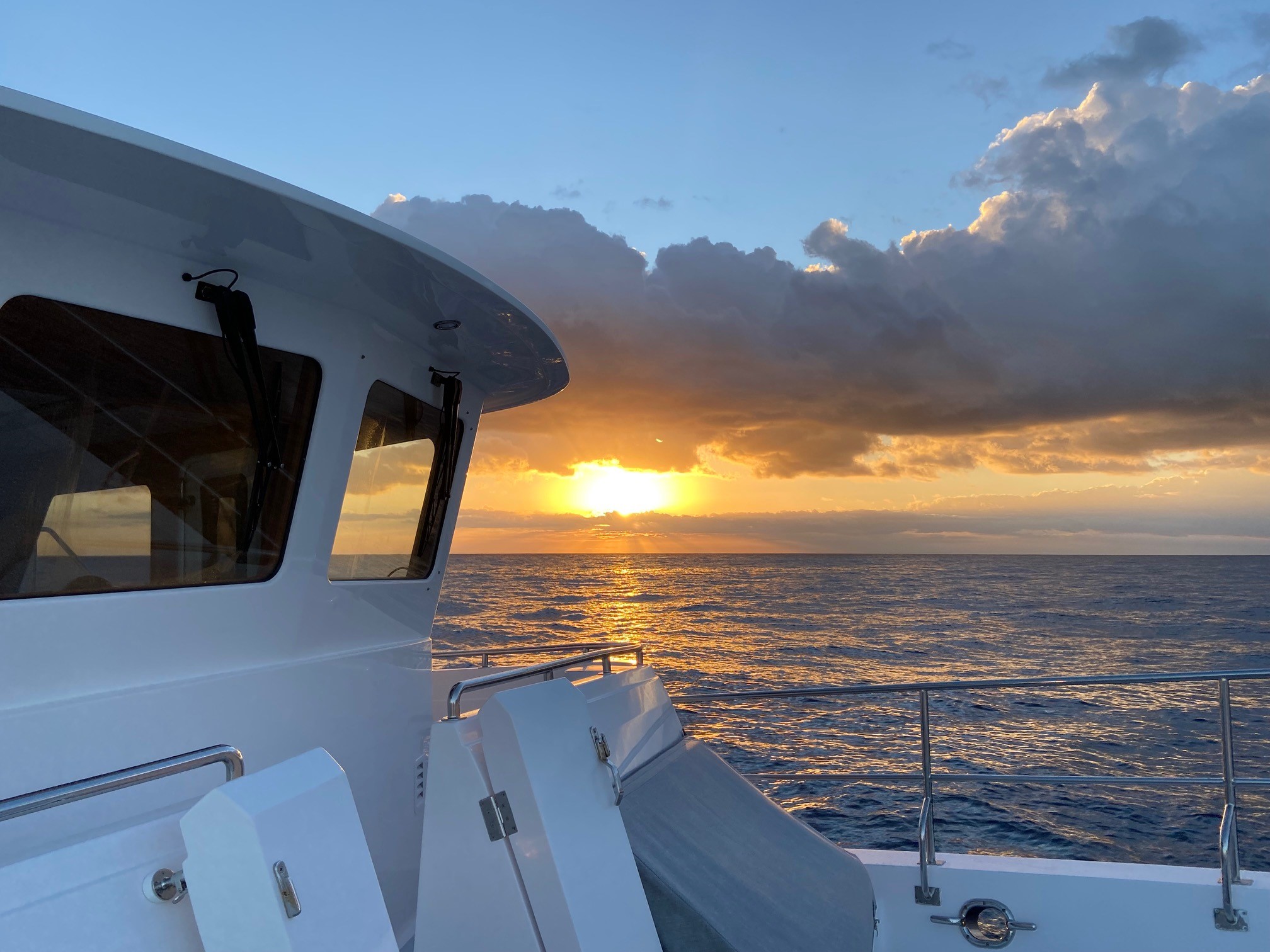 We ended up leaving Wednesday about 10:30am and heading out of the north Man O War cut then cruising just offshore of the island chain all the way past Walker's Cay and then straight over to the St. Lucie Inlet and Stuart. A lovely 23-hour run. It was still a bit lumpy when we left for the first six to eight hours as the front had recently shifted leaving four to six foot, confused seas, but, again, Kadey Krogen!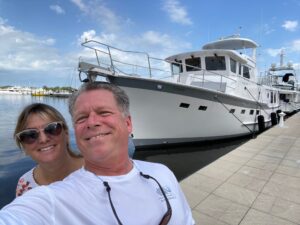 I would give anything to have all of my sea trials on days like that. When it does happen, we are leaving an inlet and see white water on the jetties and you see the potential clients shift their feet to brace themselves, or grab a hand-hold and whiten their knuckles on it. I try to time it so that right about as we are going to leave the protection and hit the first seas, I sit a full cup of coffee on the chart table and say, "would you like to take her?" 30 minutes later everyone is all smiles, relaxed, marveling at the best ride they have ever experienced in those conditions, planning out their boat, and leaving me saying…
"Just remember, if you ever need to leave the boat somewhere, I'll be happy to go get her for you! I mean, hey, what are friends for!?!"
Safe Voyages,
Captain Greg Sapp