Read Cece Cooke's account of purchasing their dream trawler twice…with different builders with entirely different outcomes, in terms of service and value.
By Cece Cooke
Hooked. After we chartered the same 42' trawler three times in three years, we realized that a ski boat on a small reservoir simply wouldn't "cut it" for us anymore. We sold our ski boat and prepared for our next adventure in life—on a bigger boat and on bigger water. We celebrated by purchasing a Tiara 4200 Open and took delivery at the factory in Holland, Michigan.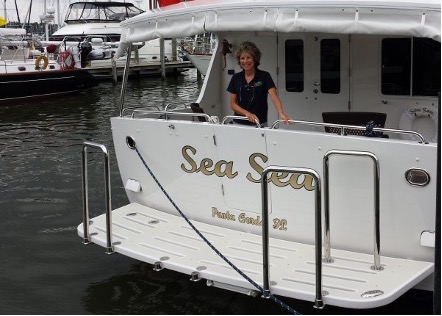 Our first trip out of the harbor was 125 nautical miles up and across Lake Michigan to a Tiara Rendezvous in Sturgeon Bay, Wisconsin. People noticed that our homeport printed on the transom was a small town in Colorado, so they naturally wanted to know where we planned to keep the boat. We told them, "No place in particular," as we planned to do the Great Loop.
While navigating the Great Loop, we put 500 hours on those big Cummins engines, so the factory asked if they could send a technician out to examine them. The technician hooked up his computer and determined that we had put on 100 hours at idle (in and out of marinas, riding up and down locks and traversing no-wake zones), 150 hours at cruise (25 knots, burning 42 gallons per hour) and 250 hours at 900 rpm—which worked out to be between eight and nine knots. We weren't surprised at the idle hours, but by the number of hours at normal cruise (25 knots) and the number of hours at the slower cruising speeds. On days when we didn't have long distances to travel, we went slow and smelled the roses. In hindsight, those were our most relaxing days.
At that point, we were sold on the idea of getting a trawler, so we entered into a contract with a trawler manufacturer (not Kadey-Krogen Yachts) to build us a 55' boat. Only then was I allowed to log onto the owner's blog site. We learned a lot about the pluses and minuses of this company's products based on the discussions shared on this blog.
As our boat plans progressed and we were a couple of months away from the molding, we wanted to meet with our project manager to discuss a few changes to avoid the consistent problems noted on the blog. In response to my request for a meeting, the company referred to our contract, particularly the following statement, "Buyer agrees to route all post-contract communication, including change orders with Seller, through his [manufacturer's name] sales representative." So, we called our salesman and asked him to arrange the meeting for us. The meeting couldn't be scheduled for 45 days! My husband and I flew to California the day before the meeting and met our salesman at 8 a.m. sharp. Finally, at 11 a.m., we met with the project manager. He gave us 30 minutes of his time and we managed to discuss four or five of our issues, at which time he said he had to go! Floored, it was not a happy moment for us.
When the recession hit the following year and our two lead banks failed, taking delivery of the boat became impossible. We forfeited a very large deposit, but later decided it hadn't been the right boat for us anyway.
While struggling through the recession, we spent some time thinking happy thoughts about what would be our next boat. We didn't want to go through the same experience we just had, so we took our time. During our Great Loop adventure we had met Dennis Lawrence briefly when he was a salesman with Nordhavn. When we decided to give Kadey-Krogen a look, I contacted Dennis and learned that he had long since moved to Seattle to open a Kadey-Krogen Yachts office. We liked Dennis from the beginning.
Dennis went out of his way to get us rides on multiple Krogens. He was proud of the way they handled and wanted to show them off, a very different experience from round one. Before we placed our previous order, we managed with great difficulty to get a ride on the model we planned to have built. When we did, it was almost a deal-breaker for me because I was so sea sick. But based on the builder's reputation, we went ahead and ordered the boat anyway.
In the fall of 2013, we decided to order a Krogen 52'. The boat met every single one of our major requirements. A dedicated office space, check. Washer and dryer, check. Covered aft deck, boat deck large enough for a substantial dinghy, a flybridge, a comfortable pilothouse, two heads, two staterooms, a Portuguese bridge with wing stations, and finally, a standup engine room with twin engines—nine more checks! We signed our contract in May of 2014.
Instead of waiting 45 days for a 30-minute meeting with a project manager, we almost immediately had a full-day meeting with Tom, Dave Glasco (Kadey-Krogen Yachts' in-house naval architect), and Dennis. We covered what seemed like a thousand issues, many of which brought up by them, to make sure we ended up with the boat we would love. What an invigorating experience. We left the meeting convinced that our happiness was a priority.
Our boat landed in Charleston on March 27, 2015. Upon arrival in Stuart, Florida, Gregg Gandy arranged for "Sea Sea" to be cleaned, the commissioning and inspection of all systems commenced. Furthermore, he contacted our electronics installer, dinghy supplier, carpet supplier, our custom mattress manufacturer, and he scheduled our interior designer to take final measurements and install their products! It was clear to us that Gregg's intent was to finish all work as efficiently and as perfectly as possible so we could go boating.
Success comes from delivering service and not nitpicking the process. The entire process of purchasing, designing and building our boat with Kadey-Krogen Yachts was at a service level I would expect at a Four Seasons or a Ritz-Carleton hotel. And, our experience has not stopped since we left with our boat.
I point out these differences not to denigrate the other manufacturer, but to demonstrate the great value in purchasing and building a Kadey-Krogen yacht!
Respectfully submitted,
Cece Cooke